Wellclima Smart is the Wi-Fi universal remote control for air conditioners which allows remote switch-on and control of any air conditioning unit applied via smartphone.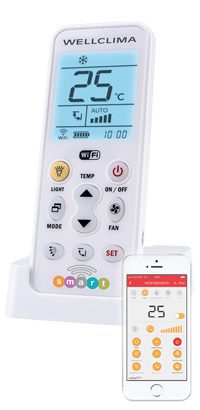 ● Compatible with 99% of air conditioning units
● 3 in one, application, remote control, Wi-Fi base for remote
control
● No costly technical interventions or changes required on the air conditioning unit
You won't have to buy a new air conditioning unit or have specific sensors installed.
Simple and cost-effective, Wellclima Smart transforms your air conditioner into a smart device and your smartphone into a remote control, while also maintaining the real remote control.
Other home automation solutions can be found integrated in new and expensive air conditioners, or there are separate Wi-Fi modules that you can only use with the app and which won't communicate with the remote control.
Instead, Wellclima Smart is used like a normal remote control, well-made and with a display visible in the dark.
When placed in the base, you can use the specific app and all the
settings implemented on your smartphone will also be visible on the remote control.
Wellclima Smart is 3 in one: a device for remote control of the air conditioner via the Wi-Fi network; an application that allows you to do it; a traditional remote control.
Wherever you are, switch on the air conditioner from remote for a cool office or home in the summer or heating in the winter, for your utmost comfort.
Using the WellClima Smart free smartphone application, you can change the operating mode, adjust the temperature, the direction and the power of the air, as well as setting the actual switch on and off programs, even numerous ones for each day of the week, something no remote control, not even the original, can offer.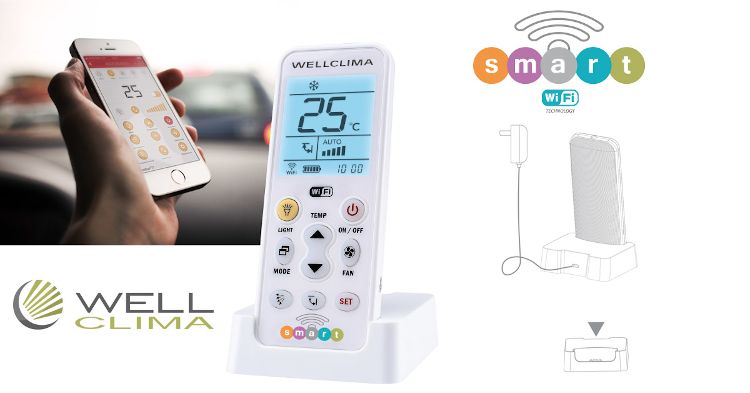 Wellclima Smart can be used as a normal remote control for all operations. It is sturdy and well-made and the rechargeable lithium battery means you won't have to buy common batteries. There's a key to switch it off when not in use and prolong the duration of the battery and a practical and convenient torch function for use in the dark.
The simple and ample backlit display of the Wi-Fi universal remote control for WellClima Smart air conditioners makes the settings clear and easily visible on the air conditioner for everyone, even at night.
Have you broken your air conditioner remote control and need to replace it? Would you like the convenience of controlling your air conditioner from remote using a smartphone
without spending a fortune?